Properties in North Yorkshire remain under flood threat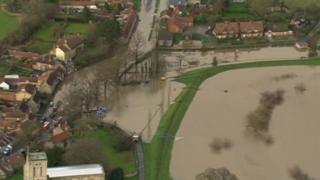 Fire crews in North Yorkshire are working to keep flood water and sewage out of homes and businesses despite flood defences holding.
The Environment Agency said the amount of surface water and overflowing drains was threatening up to 60 properties at Malton, Old Malton and Norton.
North Yorkshire Fire Service said it was using high volume pumps to remove water from several properties.
Yorkshire Water said it was investigating any sewage escapes.
Colin Atkinson from the Environment Agency said the £9m flood defence scheme which protects about 300 properties from the River Derwent was holding back flood water.
He added: "The problem we have is surface water. In Old Malton the water is running down behind the defences. There are currently eight big pumps in operation in the town keeping levels down.
"On the other side of the river in Norton once again the drains are all backed up and we are trying to work out where we can pump the water to, to keep that level down."
Di Keal, mayor of Norton, said: "I look out of the window and the gardens of my property and others have raw sewage in their gardens.
"When the Derwent is high it backs up the drains and this happens and Yorkshire Water are aware of it."
'Abandon ship'
Yorkshire Water apologised to anyone who had been affected by raw sewage from drains in the area.
Matt Thompson from the company said: "We are carrying out checks to investigate any sewage escapes.
"At this stage, we do know that our pumping station is operating as it should and moving water away to a nearby waste water treatment works."
He said the sheer volume of rainfall may have caused the local sewerage network to back up.
Mick McKenzie, who lives in Old Malton, said: "The water is in now. When it is coming through the floors and skirting boards it is time to abandon ship."
His sentiments were echoed by another resident, Hazel Robertson, who said: "There is nothing you can do about it you just have to get on with it."
The Environment Agency said 30 flood warnings remained in place in North Yorkshire.
Mr Atkinson said it looked as though the River Ouse at York might have peaked.
"It has been at just over 4.5m (14ft 9in) for some time now at York so we think that might be the peak but it will be some time before that level falls," he said.
The agency has warned 250 properties remain at risk of flooding downstream of York at Acaster Malbis and Naburn.
For many people this is the second time in three months they have been affected by the rising waters of the River Ouse.
Jamie McDonald, manager of the Ship Inn at Acaster Malbis, said: "We've worked so hard to get it back since September and to see it happen again is devastating."
The multi-agency Silver Command control centre has been established in York to co-ordinate emergency responses in the city and surrounding area.