Friarage Hospital flood threat recedes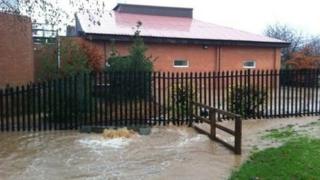 An operation to prevent water from flooding a hospital has been successful, North Yorkshire Fire and Rescue Service said.
High-volume pumps were deployed to remove water from a flooded beck close to the Friarage Hospital in Northallerton at 10:30 GMT.
There were concerns parts of the hospital could have flooded if the beck had continued to rise.
The fire service said it believed the threat had receded.
All elective surgery, a total of 10 operations, at the hospital were cancelled due to the threat of flooding.
A hospital spokesperson said it expected to return to normal on Tuesday.
Peter Hudson, from North Yorkshire Fire and Rescue, said: "We think we have cracked it now and we've left one pump at the location to just ensure we remain on top of it."
The service dealt with 60 incidents on Monday, including rescuing nine people from stranded vehicles and one man from a stranded boat in York.
Mr Hudson warned people not to ignore flood warnings and road diversions.
North Yorkshire County Council said 50 minor roads across the county remained closed due to flooding and there had been widespread disruption.
The Environment Agency (EA) said 22 flood warnings remained in place across North Yorkshire.
Colin Atkinson, from the EA, said: "It is still raining and we have a lot of surface water still which is dangerous for driving through. We would urge people to be very careful especially in the dark."
Mr Atkinson said the agency would continue to monitor river levels.
The River Ouse in York was 12ft 11in (3.96m) above normal levels at 21:00 GMT on Monday and was expected to continue to rise.
The City of York Council said it did not expect the river to reach the near-record level of 16ft 8in (5.07m) it reached in September.
A spokeswoman for the authority said: "York is very much open for business and all agencies have sufficient resources in place."