Orange Order march through Harrogate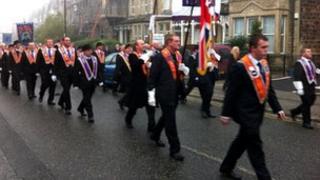 About 200 members of the Orange Order have marched through Harrogate to mark the opening of a new lodge in the town.
Organisers said members from nearby lodges gathered to mark the occasion.
Councillor Geoff Webber, from North Yorkshire County Council, said he objected to the march because of the divisions it had caused in Northern Ireland in the past.
Dale Parkyn, Worthy Master of Harrogate Lodge, said the march had been peaceful and calm.
Mr Parkyn, who started the Harrogate Sons of William group in his home town in January, said: "I can imagine a lot of people maybe didn't fully understand what was going on but nevertheless there was certainly no unpleasantness.
'Not dwelling'
"The response from the general public has been fantastic. It was probably treated with indifference, which was good."
The Protestant marches have been controversial for many years, causing conflict between the order and Roman Catholics.
Mr Webber, who opposed the march, told the BBC: "I'm not against anyone marching or demonstrating... but when an organisation like the Orange Order, which is seeking to perpetuate sectarian divisions is concerned, it is just unnecessary."
Diversions had been put in place so the march did not pass Catholic churches or clubs.