Scarborough Hospital overnight A&E cover threatened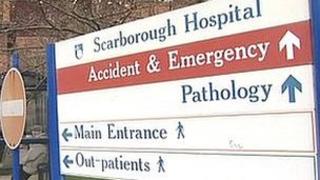 Emergency cover during the night at Scarborough Hospital could end as a North Yorkshire NHS trust attempts to save millions of pounds.
The proposal is one of a number being considered by NHS North Yorkshire and York as it faces a £19m deficit.
Trust chief executive Chris Long said officials had agreed a "long list" of possible money-saving initiatives.
"We can't take ideas off the table just because they look too scary," said Mr Long.
Even ideas which might have seemed "unthinkable" just a couple of years ago would now be considered, he said.
"The scale of the change we've got to make is quite enormous," he added.
'Unacceptable impact'
Proposals such as the possible closure of hundreds of hospital beds in North Yorkshire and the downgrading of Scarborough's maternity service could not be ruled out, Mr Long said.
In September, NHS North Yorkshire and York announced a range of medical services in the county were under review as it attempted to cut its deficit.
It also said additional savings of £55m per year would have to be made, meaning "difficult decisions" to ensure essential services could continue.
Robert Goodwill, Conservative MP for Scarborough and Whitby, said the draft proposals would have an "unacceptable impact" if put into practice.
"My initial reaction is four words - over my dead body. There is no way we can manage in Scarborough without full accident and emergency availability 24/7."
'Worrying development'
Ray Gray, from the union Unison, said the draft proposals were "a really, really worrying development".
Any overnight closure of Scarborough's A&E department "could put lives at risk", warned Mr Gray.
The current list of draft proposals would be narrowed down before being discussed again by the trust in January 2013, said Mr Long.
The trust would work with GPs, hospital doctors, managers and local residents before any of the proposals became a reality, he added.