Home-grown stable staff 'too fat'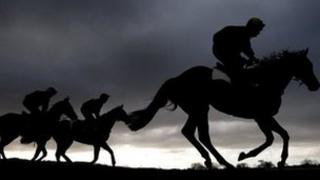 Racehorse trainers who rely on overseas stable workers have been told to "wean themselves off their addiction to immigration" by government officials.
The warning comes after the role of "work riders" was removed from the government's list of jobs where shortages can be filled by immigrants.
But trainers claim many UK applicants are "too heavy" and not skilled enough.
However, the UK Border Agency said shortages were due to "low pay rather than a lack of skills".
Trainer Bryan Smart of Sutton Bank said he needed riders from outside the EU because UK youngsters were "too large".
'Bigger kids'
Mr Smart said he feared UK border regulations would stem the flow of staff.
And his claims were backed up by Rupert Arnold, the chief executive of the National Trainers' Federation.
He said: "This is the crux of the whole thing: racing has a particular need for lightweight people training young thoroughbred horses.
"You would not want heavy people to ride thoroughbreds."
Mr Smart, who has 65 horses at his stables in the Hambleton District of North Yorkshire, said: "We need light staff and the foreign staff from India and Pakistan are quite light and they've got good skills.
"They've been on track riding out there so they do seem to know the job.
"The population of this country is getting bigger, the kids coming from school are a lot bigger; they could go down the National Hunt route, but we need light staff for the young horses, the yearlings that go on to be two-year-olds."
Mr Smart's claim was echoed by Mr Arnold, who said there were between 500 and 600 overseas riders who faced leaving the UK when their permission to stay in the UK expired.
Mr Arnold added: "You need people with the right skills and light weight to ride horses at speed."
He added that the percentage of the population in the EU with those combinations was "very small".
'Low pay'
But the claims of the industry were dismissed by the UK Border Agency.
A spokesman said: "Businesses in all areas of the economy must wean themselves off their addiction to immigration - it is the only way we will retain our own skilled workforce.
"We removed work riders from the shortage occupation list on the recommendation of the independent Migration Advisory Committee (MAC).
"The MAC found that shortages of work riders was largely due to low pay, rather than a lack of skills in the UK."
Tam Fry of the National Obesity Forum said he had seen a growing trend over a number of years of childhood obesity continuing into adulthood.
He said: "Youngsters are starting (overweight) badly and it is continuing.
"These (horse-racing) people are looking at British children and saying: 'They are too heavy'."