York Guildhall and riverside revamp designs shortlisted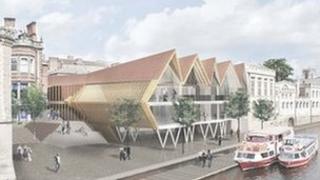 Five designs have been shortlisted for a competition to revamp York's Guildhall and riverside complex.
The contest, run by the Royal Institute of British Architects (RIBA), is looking for ideas on how the complex could be used in the future.
The City of York Council is due to move out of the premises to new offices on Station Rise in January 2013.
The shortlisted designs, by architects from London, Edinburgh and Cumbria, will go on public display on Sunday.
In total 36 entries were received from architects, including several submissions from Europe, Malaysia and Vietnam.
Keith Williams, a RIBA adviser who chaired the judging panel, said: "This was a particularly difficult task and the quality of the schemes received was for the most part exemplary.
"The five shortlisted schemes encompass a very diverse and intelligent set of design responses, each of which put across very clear strategies as to how this this extraordinary series of buildings and spaces could be transformed."
The five shortlisted designs were by Nicholas Mills Architect in Edinburgh, SEC JV Architects in Cumbria and London-based architects Jak Studio, Architecture & Urbanism Studio and Robert Loader.
Councillor Julie Gunnell, cabinet member for corporate services at City of York Council, said: "The Guildhall and associated spaces are a significant part of York's cultural and civic history.
"During the shortlisting process, one of the most important points we looked out for in the architects designs was that their proposal will continue to play a key role in the city's future."
The shortlisted designs will be exhibited at the Explore York Library Learning Centre for three days before a winner is selected on 4 December.