North Yorks gets no government funding for flood repairs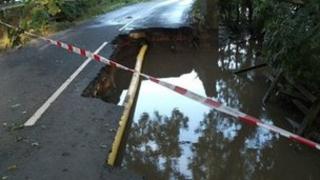 North Yorkshire will receive no government funds to cover the costs of the damage caused by the heavy flooding which hit the county in September.
The county council confirmed it would have to find £1.8m from its reserves to repair damaged roads and bridges.
Councils are able to claim part of the cost incurred by natural disasters from government but capital projects do not qualify.
The authority warned it was an extra burden at a time of financial pressure.
Gary Fielding, corporate director for strategic resources, said: "We wrote to the Department for Communities and Local Government asking that they activate Bellwin which is a grant scheme to help meet the cost of emergencies."
'Financial pressure'
He said the replacement of one bridge, at Scorton near Richmond, would cost the authority £600,000 alone.
Mr Fielding added: "This additional and unexpected burden will place us under further financial pressure as we are already facing having to find an additional £22m in savings on top of the £69m we are already making."
Conservative MP for Thirsk and Malton Anne McIntosh said: "I am asking for a change in the criteria [of the Bellwin Scheme] so that it is not just sandbagging and immediate emergency repairs that can be claimed, but for the costs of longer reconstruction of essential arteries to cross a county like North Yorkshire."
The Communities Minister, Brandon Lewis, confirmed North Yorkshire would not be eligible for funds for long-term repair work.
"The idea of Bellwin is to put local authorities in a position to take speedy emergency action to protect people during and immediately after an incident," he said.
In York, about 50 properties flooded when the River Ouse reached a near-record level of 5.07m (16ft 8ins) on 27 September.
The costs to the Labour-run City of York Council have been estimated at £440,000 and again it will not qualify for emergency funding.