Flood-hit residents in York share concerns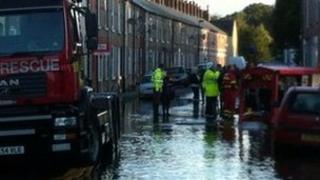 A public meeting has been held in York for people affected by the recent floods to share their experiences and concerns.
The meeting, organised by Labour MP for York Central Hugh Bayley, took place at the Novotel on Fishergate.
Mr Bayley said the meeting was an opportunity to discuss what lessons needed to be learnt from September's flooding.
North Yorkshire was hit by some of the worst flooding in more than a decade.
City of York Council leader James Alexander, representatives from the Environment Agency and Yorkshire Water listened to residents' views.
Last month, Mr Bayley raised concerns in the House of Commons about the cost of flooding.
He called for the Environment Agency to be given responsibility for providing advice to residents and businesses and to press insurers to pay compensation to those affected as quickly as possible.
In September, the River Ouse burst its banks flooding about 100 homes and businesses in North Yorkshire. More than half of those were in York, affecting the Leeman Road, Tower Street and Clifford Street areas.