North Yorkshire PCC election: Julia Mulligan wins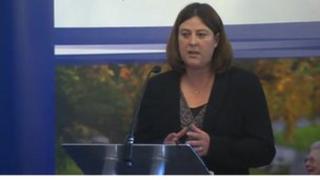 Conservative Julia Mulligan has been elected as North Yorkshire's first police and crime commissioner (PCC).
Mrs Mulligan, a former local councillor and school governor, beat Labour's Ruth Potter by 47,885 votes to 34,328 votes.
The result comes after a low turnout, with figures showing just 13.3% of the electorate went to the polls.
The new PCCs, who are set to replace police authorities, will set spending plans and have the power to hire and fire chief constables.
Mrs Mulligan said: "I intend to work really hard to make sure I represent people fairly across all parts of North Yorkshire and without political prejudice."
She accepted turnout had been low and there had been a high number of spoilt ballots, more than 6,400.
"There have been some issues around understanding what this role is. It is my job to get out there and make sure that people see that this will make a big difference in their local areas."
One of Mrs Mulligan's first tasks when she takes up her post on 22 November will be to appoint a permanent chief constable.
Tim Madgwick was appointed to the post temporarily after the retirement of Grahame Maxwell in May.
North Yorkshire Police is the largest single county force in England with a population of some 800,000 people.
The force has 1,455 police officers, 178 support officers and 989 police staff and a budget of £144m.
Turnout does not include spoiled ballots