North Yorkshire accuses Gove over schools criticism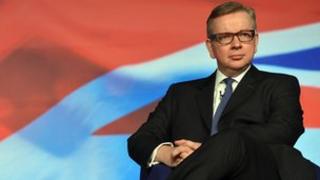 The education secretary has been accused of a "gross distortion" after he criticised the performance of primary schools in North Yorkshire.
Michael Gove said too many of the county's schools were continuing to under perform and should convert to academy status.
In a letter to MPs, he said a number of local authorities were failing pupils.
The county council said his facts were wrong and performance was improving.
The Conservative-run authority said only nine of its 323 primary schools were in special measures or under notice to improve.
'Quite wrong'
One of them was being closed by the authority.
Arthur Barker, executive member for schools, said: "It is quite wrong to suggest that the performance of North Yorkshire's schools gives cause for concern.
"On the contrary, the number of schools in North Yorkshire in Ofsted categories is proportionately much smaller than in comparable authorities."
In his letter, Mr Gove said: "The system is failing successive cohorts of pupils in North Yorkshire. Without urgent and decisive action they will continue to be failed.
"The best way for improvement to happen is for every underperforming school to become an academy with the support of a sponsor."
He added the council had been a barrier to progress on this matter and had also failed to encourage stronger schools to convert to academy status.
Only nine of the county's secondary schools and only one primary school have applied for academy status, he said.
Mr Barker said: "It is a gross distortion of the facts to assert that the system in North Yorkshire is failing its pupils.
"Primary school performance has improved by 5% in 2012 to 79% of pupils with level four or better in English or maths, just one percent behind the national average.
"The county council regards academy status as a matter which is best judged by individual schools, the basis on which it was originally designed."