Eisenhower locomotive returns to Yorkshire for makeover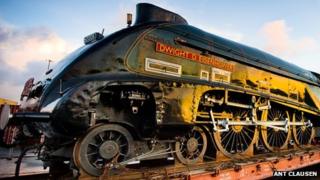 An A4 locomotive that has been in the US for 50 years has returned to Yorkshire for a makeover.
Dwight D Eisenhower was built in Doncaster in 1937 and shipped to North America in the 1960s.
It is being repainted at the National Railway Museum (NRM) in York, and will be on display to the public in the workshop from mid-November.
The revamp is part of 75th anniversary celebrations of the Mallard breaking the steam locomotive speed record.
The museum is bringing all six of the world's remaining A4 locomotives together in York to mark the anniversary next year.
Mallard broke the steam locomotive speed record in 1938, travelling at 126mph (203km/h) on what is now the East Coast Main Line.
Dwight D Eisenhower is on loan for two years from the National Railroad Museum in Wisconsin, US.
Its executive director Jacqueline D Frank said: "We hope the British public enjoy the chance to see Dwight D Eisenhower, which although built in Doncaster, now occupies a special place in the hearts of the American people due to it being renamed after one of our presidents."
Another of Mallard's sister locomotives, Dominion of Canada, is being repainted at the NRM's site in Shildon, County Durham.