Jimmy Savile removed from Scarborough honour list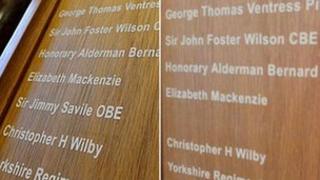 Jimmy Savile's name has been removed from the list of Honorary Freemen of the Borough of Scarborough, councillors have decided.
His name has been taken off as a gesture of support to his 300 alleged victims who he abused over six decades, councillors said.
The former DJ and broadcaster was awarded the accolade in 2005.
It was given to celebrate his links with the North Yorkshire resort, where he owned a home and was buried.
Special privileges
Conservative councillor Tom Fox, who proposed the motion, said: "This council wishes to send its heartfelt support to, and acknowledge the courage of, those who have come forward having suffered horrendous abuse at the hands of the alleged serial predatory sexual offender Sir Jimmy Savile."
If Scarborough Borough Council had been aware of the alleged abuse at the time of Savile's nomination, members would have refused it, Mr Fox added.
Savile's name has been removed from the honour board pending the final report from the Metropolitan Police's investigations into the allegations against Savile.
Historically, anyone made a Freeman of the Borough of Scarborough was exempt from tolls and given special privileges.
The honour is still awarded to "persons of distinction and any persons who have rendered eminent services to the borough".
'Out of respect'
Scarborough has granted freeman status to 20 individuals and groups since 1974, including playwright Sir Alan Ayckbourn, boxer Paul Ingle and the Yorkshire Regiment.
The vote to erase Savile's name from the list of Honorary Freemen comes just under a month after his gravestone was removed from Woodlands Cemetery in Scarborough.
His family said the headstone had been dismantled "out of respect to public opinion" following the allegations he had sexually abused girls.
Before the vote was taken on Monday, Colin Haddington, councillor for Filey, called for Savile's body to be dug up from Woodlands and cremated out of respect to families who visit the graveyard.
One of his constituents whose granddaughter is buried close to Savile had suffered "a great deal of distress", he said.
However, Mr Fox said an exhumation was a matter solely for Savile's family and they had made it clear they did not want his body removed.