North Yorkshire PCC candidates urged to target rural crime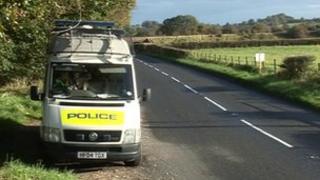 Farming union leaders have urged the new police commissioner for North Yorkshire to tackle the growing problem of rural crime in England's largest county.
About 40% of farmers in the county have been the victims of crime in the past 12 months, according to research by the National Farmers' Union (NFU).
Most of the crimes involved the theft of metal, diesel, livestock, farm vehicles or even stone walls, the union said.
NFU regional director Barney Kay said people living in the countryside were concerned that with "stretched resources", North Yorkshire's newly-elected police and crime commissioner may choose to focus on problems in more heavily-populated urban areas.
He said: "Given the huge pressure on police resources, it is clearly unreasonable to expect that rural areas should be given higher priority than urban areas where serious policing challenges are evident.
"However, it would also be completely unacceptable for significant numbers of rural residents to be left to fend for themselves."
Both candidates for the PCC post in North Yorkshire said they recognised the need to provide adequate rural crime protection.
Sheep rustling
Conservative candidate Julia Mulligan spent a few days last month visiting farming communities in the Yorkshire Dales and reported on her website that "virtually every farmer" she spoke to had been the victim of rural crime.
At the Auction Mart in Leyburn, Ms Mulligan said she had heard from farmers about red diesel thefts, sheep rustling, stone slates being taken from barns and the theft of machinery and vehicles.
"Several farmers had been delighted by the response from the police but others were highly critical," she says on her website.
"Interestingly the key issue wasn't response times but concern over rural crime as a priority for the police and in particular concern that criminals travel to North Yorkshire from neighbouring areas."
She has pledged to crack down on cross-border crime and introduce new "parish constables" with full powers of arrest in small towns and villages.
Labour candidate Ruth Potter said she wanted to focus resources in rural areas on providing neighbourhood policing.
"That way you will have dedicated officers working in areas they know well and acting on local intelligence," she said.
"People will be concerned because there will be cuts to police resources; there will be 167 fewer officers by 2015.
"Obviously the chief constable will have to manage within that number.
"The role of the commissioner will be ensuring there is a balance between what is happening in rural areas and urban centres."