Ash dieback disease: Walkers urged to help prevent spread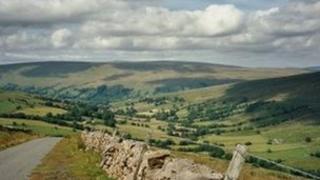 Walkers in the Yorkshire Dales are being asked to take precautions to prevent the spread of a disease that is threatening millions of ash trees.
Officials at the national park authority are asking people to the area to clean their boots, bike tyres, cars and dogs after visiting in the area.
Fears of the spread of the ash dieback disease have prompted the call.
The trees are being attacked by a fungus that can be transmitted by wind, insects and rain splash.
Geoff Garrett, the park's senior trees and woodland officer, said: "Ash is such an important tree in the broadleaved woodlands of the limestone uplands of the Yorkshire Dales that we are treating the potential impact of the disease very seriously.
"It is impossible to say with any accuracy how many well-established ash trees we have in the National Park but it's in the order of hundreds of thousands - perhaps even millions.
"On top of that, we have planted about 250,000 new ones in the last 10 years - and they are all at risk from this disease.
"So far we have found no symptoms of it but we would ask people to take extra care when they are out enjoying this beautiful place.
"If they have to go into an area full of trees, we would ask them not to visit other similar areas within a 24-hour period and to make sure they clean their boots, car and bicycle tyres, dogs and anything else that may have come into contact with leaves or wood."