North York Moors farm buildings 'impacting landscape'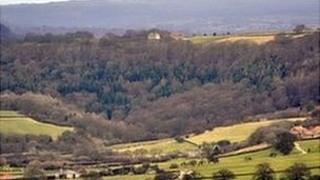 A Yorkshire national park is drawing up plans to stop new agricultural buildings having a negative impact on the landscape.
The North York Moors National Park Authority has drawn up a draft design brief and is asking farmers and park residents for their views.
The document includes advice on the scale and colour of buildings and appropriate roof types and materials.
The authority said a growing trend towards large buildings was concerning.
Visual quality
It said: "Majors changes in farm practices over the last five decades have had a significant impact on the design and function of agricultural buildings.
"Consequently, larger buildings are required for the efficient housing of livestock and storage of fodder, produce and general everyday equipment and machinery.
"There is a continuing trend towards larger building with wider roof spans, even if fewer are being built.
"These buildings can be industrial in appearance and scale and can have a significant impact on the rural landscape and the visual quality of existing farmsteads."
The consultation period ends on 14 December. The final draft of the design brief, which will be used by the authority when considering planning applications, will be published in the spring.