Jimmy Savile may be stripped of freedom of Scarborough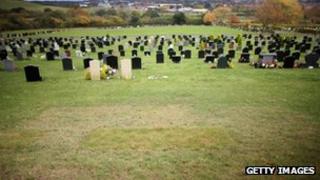 Jimmy Savile may be posthumously stripped of his freedom of the borough of Scarborough.
Savile, who owned a second home in Scarborough and is buried in the town, was given the accolade in 2005.
A motion to the council, which will be considered on Monday, calls for his name to be immediately removed from the honour board.
The council will decide whether to permanently strip him of the honour once a police inquiry into Savile ends.
Conservative council leader Tom Fox has proposed the motion, which says: "This council wishes to send its heartfelt support to, and acknowledge the courage of, those who have come forward having suffered horrendous abuse at the hands of the alleged serial predatory sexual offender Sir Jimmy Savile."
Signs removed
It continues: "In addition, this council, in further acknowledgment of the serious predatory sexual allegations spanning over six decades, agrees that if the council had been aware of such revelations at the time of Sir Jimmy Savile's nomination for honorary freeman of the borough of Scarborough, the council would have refused it.
"It is therefore proposed that his name be removed forthwith from the honour board for freemen of the borough pending the final report from the Metropolitan Police, when this council will make a permanent decision in relation to the matters referred to in this motion."
Mr Fox said the council supported the removal of street signs and a memorial plaque that celebrated the late presenter's links to the town, and his headstone, which was recently removed and broken up at the family's request.
Historically, anyone made a freeman was exempt from tolls and given special privileges. It is still awarded to "persons of distinction and any persons who have rendered eminent services to the borough".
Scarborough has granted freeman status to 20 individuals and groups since the local government reshuffle of 1974, including playwright Sir Alan Ayckbourn, retired boxer Paul Ingle and the Yorkshire Regiment.