Allerton incinerator: Calls for public inquiry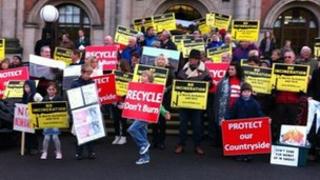 Campaigners have vowed to continue their fight against plans for a waste incinerator in North Yorkshire.
The county council's planning committee approved on Tuesday proposals for the multimillion-pound unit at Allerton Park, between York and Harrogate.
Harrogate council and local MPs who opposed the scheme want the government to call in the application so it can be determined at a public inquiry.
Amey Cespa, which would build and run it, said opponents were a minority.
Andrew Cousins, the company's project manager, said after the planning meeting: "I have heard people say that it was a done deal, I really wish I had that same level of confidence."
Mr Cousins said most residents he had spoken to during consultation events were either in favour of the scheme or indifferent.
'Not right'
The Conservative-controlled county council said the incinerator would prevent 90% of North Yorkshire's household waste from going into landfill.
Protesters, including the North Yorkshire Waste Action Group, claimed the scheme was too big and was designed to burn far more waste than North Yorkshire produces.
Andrew Jones, Conservative MP for Harrogate, and Nigel Adams, Conservative MP for Selby and Ainsty, have asked Eric Pickles, Secretary of State for Communities and Local Government, to call in the planning application.
Harrogate Borough Council, which had opposed the scheme, also said it was disappointed with the decision.
Alan Skidmore, cabinet member for planning, said: "We will make our views known [to Mr Pickles] because we feel quite strongly that this is not the right thing."
A spokeswoman for the Department for Communities and Local Government confirmed it had received the requests from Mr Jones and Mr Adams.
She said their representations and details of the application would be assessed before a decision was made.
The government has said it believes planning decisions should be taken by local authorities and has urged ministers to use their call-in powers sparingly, when matters are of national significance.