Naburn cable theft cuts village phone services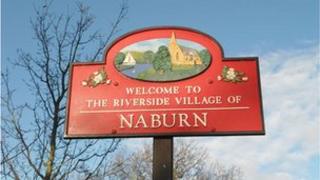 A village near York will be left without telephone services for four days after the theft of copper cable, BT said.
About 100 households at Naburn were cut-off following the theft of 1,640ft (500m) of copper cable along the B1222 road in the early hours of Sunday.
The phone company said the cable appeared to have been dragged out of the ground.
It said the service would be restored by Wednesday.
BT and North Yorkshire Police have appealed for anyone who saw suspicious activity in the area to contact them.
Simon Davies, BT's general manager of cable and payphone theft, said: "The cut cables have already been removed and we are now inspecting the cable ducts for damage.
"If the ducts are intact we can then run the new cable through and begin the painstaking process of reconnecting customers one by one onto the new cable."