Drax CO2 capture scheme may get goverment funding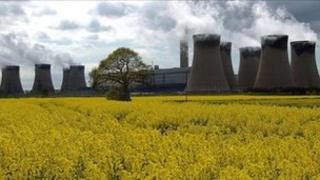 Plans to store carbon dioxide beneath the North Sea have been shortlisted for a share of £1bn in government funding.
The White Rose project plans to transport CO2 produced at Drax power station, near Selby, through a pipeline and store it underground.
The funding supports the development of technology to cut emissions by fossil fuel-fired power plants.
The government is expected to make a decision next year on whether the scheme will receive further support.
The White Rose scheme is backed by a consortium of companies including Alstom, Drax, BOC and National Grid.
The plan would develop carbon capture and storage (CCS) technology at a new coal-fired power station on the existing Drax site.
The developers believe it would reduce carbon emissions at Drax - the UK"s largest coal-fired power station - by up to 90%.
The National Grid's proposed 40-mile (64km) pipeline would run from Stainforth in South Yorkshire to Barmston in East Yorkshire.
C02 would be transported in liquid form and stored in natural porous rock beneath the seabed.
Three other CCS schemes at Grangemouth and Peterhead in Scotland and at Teesside have also been shortlisted for funding by the Department of Energy and Climate Change.