Metal York Minster 'orb' displays medieval stained glass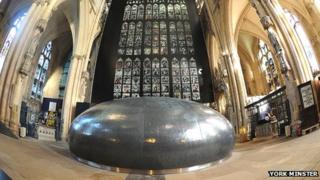 A giant metallic "orb" displaying medieval stained glass has been unveiled to visitors at York Minster.
The orb, which is 33ft (10m) wide and 10ft (3m) tall, is a new gallery reflecting the restoration of the Minster's Great East Window.
Inside, visitors can see five newly-conserved glass panels from the window.
Canon Glyn Webster, acting dean of York Minster, said people would be able to see for the first time the window's "rich colour and artistry".
'Treasure house'
At 78ft (24m) high, York Minster's Great East Window is the UK's largest medieval stained glass window.
It has been removed as part of a five-year conservation project which is supported by a £10m Heritage Lottery Fund grant.
The 311 individual panels from the window reveal a Christian history of the world, as told in the Bible, from Creation to the Last Judgement.
Sarah Brown, director of the York Glaziers Trust, which carried out the restoration of the five panels displayed in the orb, said the minster was "a great treasure house of stained glass".
The aim of the orb was to introduce visitors to the "masterpiece" that is the Great East Window, she said.
"People will see this window and appreciate that all the windows in the minster have stories to tell and they deserve our attention and appreciation."
The orb will remain at York Minster until 2015. The restoration of the Great East Window is expected to be completed by the summer of 2016.