Elvington Airfield fined for noise nuisance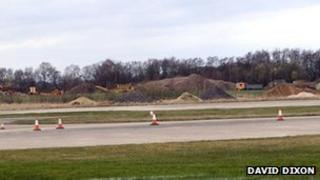 An airfield in North Yorkshire has been fined for causing noise nuisance from motorsports.
York council said it had received hundreds of complaints from residents living near Elvington Airfield.
Elvington Park Limited, Elvington Events Limited and company director and secretary John Hudson were found guilty of breaching a noise abatement order.
The firms and Mr Hudson were each fined £3,500 following a trial at Selby Magistrates' Court.
The charges related to two visits by council officers to houses near the airfield last year.
'Continue to monitor'
The firms and Mr Hudson, 63, of Main Street, Sutton-on-Derwent, were each found guilty of two charges of causing statutory noise nuisance in breach of a noise abatement order.
The council was also awarded £14,500 costs.
Anthony Dean, principal environmental protection officer, said: "We have received hundreds of noise complaints from local residents about motorsports and related activities at the Elvington Airfield since owners bought the site in the year 2000.
"The council welcomes the magistrates' court judgement against our noise abatement noises.
"We will continue to respond to noise complaints from local residents and monitor noise levels at events held at the airfield."