Funeral for Sgt Gareth Thursby killed in Afghanistan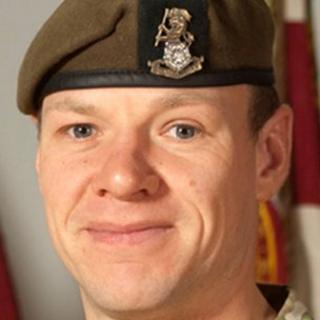 Hundreds of people lined the streets of Skipton as the funeral was held of an "inspirational" army sergeant who was known to his men as Dad.
Sgt Gareth Thursby, 29, of 3rd Battalion The Yorkshire Regiment was killed alongside colleague Pte Thomas Wroe in Helmand Province last month.
Soldiers just returned from Afganistan joined mourners in the town to pay respects to the married father of two.
Maj Malcolm Birkett said: "One word to sum him up - inspirational."
Maj Birkett said that Sgt Thursby's wife Louise had wanted to leave his funeral until his company had arrived back from its tour.
He said the men got back to the UK this week.
He said: "Louise asked specifically if we could wait until Alma company returned from operations.
"And you can see they're here en masse - 120 of them."
Maj Birkett said Sgt Thursby epitomised "everything right in the Army".
"A fantastic leader of men, a superb soldier. He had such an affiliation, a close bond with his men that actually he was called Dad throughout the tour."
In a tribute read during the service, Mrs Thursby said: "Apart from his family, his job and his lads meant everything to him."
She added: "He'll live on in his children who are so proud of their daddy and want to make him proud of them too.
"They look out for him at night, sat on his star, watching over us, still keeping us safe."
Sgt Thursby and Pte Wroe were killed at a checkpoint when a man dressed as an Afghan policeman pretended to be injured so they would help him.
He is survived by his wife and two children Joshua, 10 and Ruby, four.