Two month repair on flooded road in North Yorkshire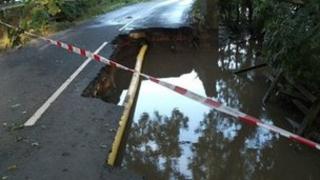 Repairs to a road linking two North Yorkshire villages could take up to two months, the county council has said.
The minor road between Linton on Ouse and Newton on Ouse collapsed when the River Ouse burst its banks in September.
North Yorkshire County Council said it aimed to complete the work by Christmas but the damage had been extensive.
Road access to both villages remains possible using an alternative route through Tollerton.
September's flooding was the worst to hit North Yorkshire for more than a decade.
The cost of repairs to damaged roads and bridges could be as high as £3m, the Conservative-controlled county council has said.