M&S lorry gets stuck under York's Micklegate Bar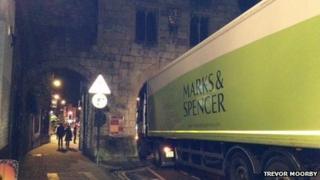 Fire crews in York have freed a lorry after it became stuck under one of the city's medieval gateways.
The Marks and Spencer lorry was travelling through the central arch of the 12th Century Micklegate Bar on Thursday night when it got stuck.
Micklegate Bar is one of four medieval gateways into the city and has a height restriction of 10ft (3.05m).
The City of York Council said it had carried out an inspection of the bar and there was no structural damage.
'No ordinary accident'
North Yorkshire Fire and Rescue said it had cut away a spoiler from the cab of the lorry in order to free it.
The incident prompted numerous comments on Twitter with many people using humour based on recent M&S television adverts.
Chris Wilkie wrote: "This is not just any lorry getting stuck...but an M&S lorry."
"No ordinary accident. A Marks & Spencer Accident," was the comment from Andrew Little.
A spokesperson for the supermarket said: "We would like to thank the North Yorkshire Fire and Rescue Service for their support in ensuring the incident was resolved as quickly as possible with minimal disruption."
Since 1389, in a tradition established by King Richard II, monarchs visiting York must formally request permission to enter the city at Micklegate Bar.