York Dungeon jobs under threat after flooding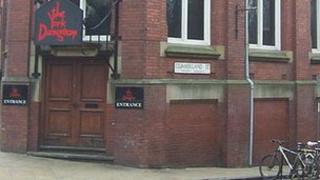 A North Yorkshire visitor attraction could make up to 14 of its 25 staff redundant after being closed for repairs following flood damage.
York Dungeon was flooded when the River Ouse reached a near-record level of 5.07m (16ft 8ins) on 27 September.
Merlin Entertainments, which owns the dungeon, said "absolute worst case" would be 14 job losses.
The company said it would try to find alternative employment for affected staff within the company.
Merlin Entertainments said the flood damage had affected almost two thirds of the building and had made it unfit for operation.
It said a detailed assessment of the venue had taken place on Tuesday and although it was evident major works were required, it might be possible to get the attraction reopened earlier than first thought.
In a statement the company said: "We have begun a period of consultation with the team who understand that the situation is sadly outside our control.
"Our aim is to minimise any need for redundancy, including where possible and practical seeking to find them new roles within the Merlin Group."
Merlin operates such visitor attractions as the Sea Life Centres, Madame Tussauds and Legoland.