York's Holgate Windmill roundabout 'best in Britain'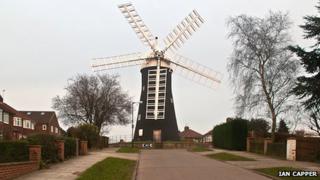 A roundabout in York which features a working windmill has been named by enthusiasts as the best in Britain.
Holgate Windmill, located on a roundabout at the centre of a 1960s residential estate just outside York, dates back to about 1770.
Kevin Beresford, president of the Roundabout Appreciation Society, said it was "totally unique".
"I've travelled from John O'Groats to Land's End for the perfect gyratory and now I think I've found it," he said.
'Work of art'
The four-storey mill, the last remaining in York, is currently being restored by members of the 600-strong Holgate Windmill Preservation Society.
A new set of sails was hoisted into place on the Grade II listed windmill in December 2011 after more than a decade of fundraising.
While most roundabouts were "an oasis in a sea of asphalt", the Holgate Windmill roundabout was the "Holy Grail", said Mr Beresford.
"I was gobsmacked when I first saw it. It's in such good shape it's a work of art," he said.
"It's spectacular. It will take some beating to surpass. It proves that anything can go on a roundabout."
Previous roundabouts awarded the society's accolade are the BFI Imax roundabout in London and the Shepherd and Flock roundabout in Farnham.
Jenny Hartland, chair of the Holgate Windmill Preservation Society, said its members were "tremendously grateful" for the award.
It highlighted the roundabout as "one of the the most dramatic and remarkable" in the country, she said.
As a result of the award the roundabout would feature on the front cover of the Roundabout Preservation Society's 2013 calendar, said Mr Beresford.