Richmond's Georgian Theatre Royal Heritage Lottery grant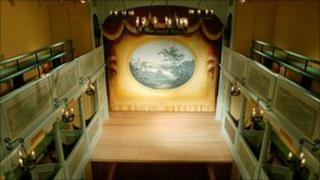 A North Yorkshire theatre has been awarded more than £120,000 in lottery funding to develop a learning centre.
The Georgian Theatre Royal in Richmond, built in 1788, is the UK's most complete 18th century theatre.
Housed in the existing building, the centre will explain the role of theatre in the Georgian period.
A Heritage Lottery Fund (HLF) grant of £121,600 will be used to develop initial plans. A further grant will be needed to complete the centre.
Malcolm Bryant, chairman of the Georgian Theatre Royal Trust, said: "This project has the support of our town, district and county councils and has the potential to transform the Georgian Theatre Royal as a major heritage and educational resource."
The centre will be a memorial to the theatre's former Associate Director Paul Iles.
Mr Iles left the theatre more than £200,000 for educational and heritage uses when he died in 2011.