Tribute to North Yorkshire holiday camp founder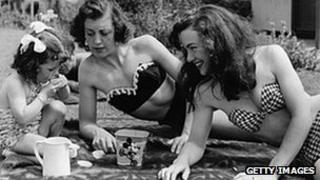 More than 150 former employees have attended the unveiling of a plaque in honour of holiday boss Sir Billy Butlin at the site of a camp in Filey.
The camp was built in the 1930s and was the largest in the world until it closed in 1983.
The plaque was paid for by former Butlin's entertainers, known as Redcoats.
Organiser Rocky Mason said: "We felt it was wrong to pull down the holiday camp and not leave any memorial to it."
Filey was one of eight holiday camps built by Butlin across the UK.
'Happiest years'
Mr Mason joined the Butlin's camp at Filey in 1957 as a boxing instructor before rising through the ranks to become Chief Redcoat.
He said: "I was with the company for 30 years, and they were the happiest 30 years of my life."
The Filey camp has been able to accommodate up to 11,000 people and even had its own railway branch line.
The site was eventually demolished and replaced by a caravan park.
Mr Mason said the launch of cheap Mediterranean package holidays in the 1970s led to the camp's demise.
"We found that you could go to Spain cheaper than coming to Butlins," he said.
"When you got there the food and the drink and everything else were much cheaper than at the Butlin's camp."