Cunard cancels Sir Jimmy Savile Scarborough sail past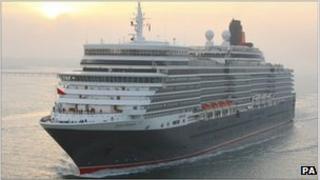 Cruise company Cunard has cancelled plans for its liner Queen Elizabeth to pay tribute to Sir Jimmy Savile.
The liner had been due to sail past Scarborough, where Savile was buried last November, at 15:00 BST on 1 August 2013.
Savile, who has been at the centre of numerous allegations of child abuse, was a frequent traveller with Cunard.
The company said it would not be "appropriate" for the planned sail past to go ahead.
A spokesman for the company said it would not comment further.
In January, a Cunard spokeswoman had described Savile as "a true friend of Cunard".
His last voyage was aboard Queen Elizabeth on her maiden Round Britain trip in September 2011.
Savile died at the age of 84 on 29 October 2011 and was buried in Scarborough, where he had had a home for 40 years, a week later.
The allegations he had abused under-age girls were first aired in an ITV documentary on 3 October.
Since the broadcast several alleged victims of the presenter have contacted police forces across the UK.
The Metropolitan Police is now leading an inquiry into the abuse claims and is pursuing 120 separate lines of inquiry.
The BBC will also hold an inquiry into allegations Savile abused girls while working for the corporation after the police investigation is completed.