North Yorkshire faces £3m bill for flood damage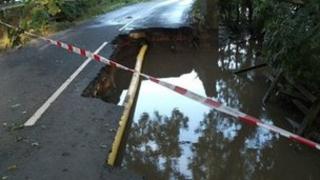 The cost of recent flood damage to bridges and roads in North Yorkshire could be as high as £3m, the county council has said.
The Conservative-run authority added it did not believe it would qualify for emergency funding from the government.
North Yorkshire was hit by some of the worst flooding in more than a decade in September.
At least one bridge, at Scorton, will need replacing and many roads will need significant repairs, the council said.
Under the Belwin Scheme councils can claim part of the costs incurred by natural disasters from central government.
'Seems unfair'
But they can only claim for costs met out of revenue and not for capital projects such as replacing bridges.
John Watson, executive member for financial services, said: "Like an insurance policy it has an excess point and for North Yorkshire that is £1.3m which is exactly what we have had to find from revenue.
"It does seem unfair that a huge rural area like North Yorkshire should have to face a very big bill simply because our flooding was worse than anyone else's."
North Yorkshire is currently cutting £69m from its budget in order to meet savings targets.
Mr Watson said: "As a council we currently spend £1m a day that excludes the cost of schools. Three million might not sound a lot against that but where we find that £3m I don't know yet."
In York, around 50 properties flooded when the River Ouse reached a near-record level of 5.07m (16ft 8ins) on 27 September.
The Labour-run City of York Council said it had not yet calculated the total cost of damage in the city.