Suspended Nayef El-Barghouty can return to practise medicine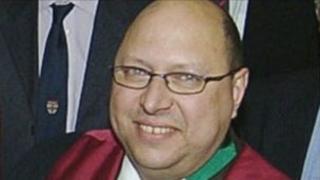 A surgeon from North Yorkshire who was suspended after being found guilty of misconduct and dishonesty has been told he can return to work.
Nayef El-Barghouty was suspended in July 2011 by the General Medical Council (GMC) after a series of botched operations.
A tribunal decided that Mr El-Barghouty can practise medicine again when his suspension ends on 29 December.
However, 22 conditions have been imposed, which he must abide by.
Mr El-Barghouty had worked as a vascular and general surgeon at Scarborough Hospital for 15 years, before being sacked in August 2011.
One man died after undergoing three operations in one day to remove an aneurysm in his leg. The operations were made necessary due to mistakes made by the surgeon.
Also it emerged Mr El-Barghouty had lied under oath about the size of the aneurysm during the inquest into Mr Taylor's death.
A second patient, Joanne Roche, 42, from Bridlington, was left with damaged vocal chords after having her thyroid gland removed by Mr El-Barghouty in 2008.
'Better person'
A report by the Medical Practitioners Tribunal Service said it "remained concerned" that Mr El-Barghouty "has not yet fully accepted and adopted the principle that honesty is a fundamental tenet of the medical profession".
However the panel was "impressed" with testimonials and evidence it had seen and "believed that Mr El-Barghouty is a better person and doctor".
The panel said therefore it had decided that Mr El-Barghouty would be permitted to practise medicine under a set of conditions over a 24-month period.
The conditions state that he must notify the GMC if he accepts any jobs and that he must only practise in the NHS.
If employed he must remain under the supervision of an educational supervisor.
It also added that he is not to undertake thyroid surgery or work as a locum or work out-of-hours, among other conditions.
The tribunal concluded that Mr El-Barghouty, who is currently working in Saudia Arabia, has the right to appeal the decision.