Jimmy Savile's grave to be dismantled in Scarborough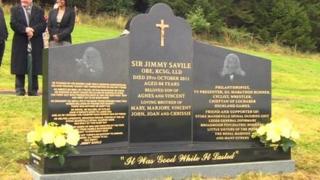 Sir Jimmy Savile's grave in Scarborough is to be dismantled following allegations he sexually abused girls.
The entertainer's triple headstone at Woodlands Cemetery is to be taken down from first light on Wednesday.
A family spokesman said the decision had been made due to "the impact the stone remaining there could have on the dignity and sanctity of the cemetery".
Sir Jimmy had a long association with Scarborough and was buried there after his death, aged 84, in October 2011.
The family spokesman said: "Out of respect to public opinion, to those who are buried there, and to those who tend their graves and visit there, we have decided to remove it."
Gold coffin
The operation to take away the granite and steel headstone would be carried out "methodically and professionally", said the undertaker who dealt with Sir Jimmy's funeral last year.
The Jim'll Fix It and Top Of The Pops presenter was buried in a gold coffin at a 45-degree angle at the cemetery, facing the sea, at his own request.
The coffin was later encased in concrete as a "security measure" amid speculation about its contents.
Although he was buried in November 2011, the triple headstone was only unveiled last month.
Beneath the three stone tablets is inscribed a quotation requested by Sir Jimmy: "It Was Good While It Lasted".
Earlier on Tuesday, the Metropolitan Police said they were pursuing 120 separate lines of inquiry after recording eight allegations against the Leeds-born entertainer, including two accusations of rape.
'Comprehensive examination'
The investigation follows claims made about the BBC broadcaster in an ITV documentary last week.
BBC Director General George Entwistle has promised a "comprehensive examination" of the allegations concerning Sir Jimmy's time at the corporation.
Mr Entwistle said all "outstanding questions" would be addressed after the police had finished their inquiries.
The removal of the headstones comes days after a footpath sign in Scarborough commemorating Sir Jimmy was taken down by the borough council.
A plaque outside his flat in Scarborough was also taken down last week after the words "rapist" and "paedophile" were written on it
Leeds City Council has removed his name from an inscription on a wall commemorating high profile citizens at the city's Civic Hall.
And a wooden statue of Sir Jimmy which stood outside Scotstoun Leisure Centre in Glasgow was also removed from public display after the allegations were broadcast last week.