Sir Jimmy Savile Scarborough footpath sign removed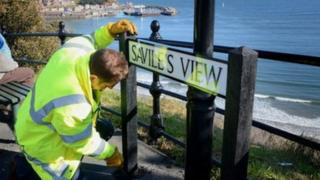 A footpath sign commemorating the late Sir Jimmy Savile in Scarborough has been taken down by the council.
The path was named Savile's View before accusations the entertainer had sexually abused under-age girls became public.
The Metropolitan Police is to assess the allegations against Sir Jimmy.
Leeds City Council has removed his name from an inscription on a wall commemorating high-profile citizens at the city's Civic Hall.
The council added: "In light of the very serious nature of the allegations now made, we will be removing the inscription and have stopped work on other possible commemorations.
"We will await the outcome of any investigations before deciding whether any further action is necessary."
Scarborough Council said taking the sign down was an "appropriate" response until investigations into the allegations were concluded.
The Scarborough sign is the latest tribute to the entertainer to be removed from public view.
A plaque outside his flat in Scarborough was taken down last week after the words "rapist" and "paedophile" were written on it.
'Spiritual home'
Bill Chatt, Scarborough Borough Council cabinet member, said: "The revelations last week made us aware this was a big issue for the borough and we decided to remove the signs until the investigation by the Metropolitan Police is concluded."
Sir Jimmy had a long-association with the town and was buried in Scarborough after his death in October 2011, at the age of 84.
"I think he saw this as his spiritual home. I was shocked when I heard so many people on television saying 'we knew he was a wrong 'un' when we had thought he was a good 'un," Mr Chatt said.
The entertainer had been made a Freeman of the Borough of Scarborough and Mr Chatt said the council had not ruled out posthumously removing the honour.
Security at the cemetery in the resort where Sir Jimmy was buried has also been increased.
But officials at the Royal Armouries International events centre in Leeds said they would not be changing the name of their Savile's Hall site which was named in honour of the late presenter.
A spokesman said: "The allegations against Sir Jimmy Savile are as yet unproven and he was, in life, knighted by both the Queen and the Pope.
"If these allegations are proved then we will review our position".
The allegations against Sir Jimmy, made in an ITV documentary, suggest he abused under-age girls at the height of his fame in the 1970s.
Some of the allegations refer to incidents on BBC premises.
The corporation has apologised and pledged a full inquiry after the police investigation is concluded.