Sir Jimmy Savile Scarborough plaque defaced and removed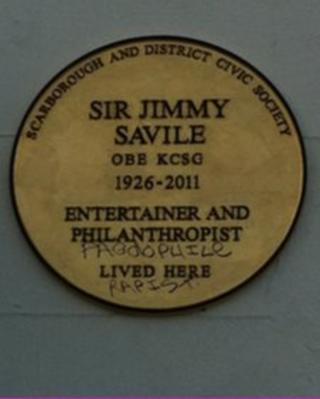 A memorial plaque at the former Scarborough home of Sir Jimmy Savile has been removed after it was defaced with graffiti.
The words "paedophile" and "rapist" were scrawled over the plaque at the entertainer's flat on the Esplanade.
It follows allegations that Sir Jimmy sexually abused teenage girls.
North Yorkshire Police, which is investigating, warned people against defacing such signage, saying these were "criminal acts".
The gold-coloured plaque was installed by Scarborough Civic Society and a community group set up in Scarborough in memory of Sir Jimmy in September.
It originally read "Sir Jimmy Savile 1926-2011. Entertainer and philanthropist lived here".
Friend 'surprised'
North Yorkshire Police said in a statement: "We would ask people that even if emotions are running high, not to engage in any criminal acts as they will be dealt with in the same way as any other criminal activity."
Sharon Aldred, who owns a flat in the same block, said: "I can understand people's opinions but I see no need to deface something like that."
Another resident, Richard Tolson, said: "Until things settle down the plaque should come down. People are vulnerable here and want it down."
In an ITV documentary, broadcast on Wednesday night, five women alleged they were sexually assaulted as teenagers by the DJ and presenter in the 1970s, some in his BBC dressing room.
David Gloan, a friend of Sir Jimmy's for 28 years, said he was very surprised by the allegations.
Reacting to the documentary, he said: "I have no reason to disbelieve what they are saying but I think I may have been more comfortable if it had been a proper police inquiry."
Meanwhile Scarborough Borough Council confirmed security at the cemetery where the DJ was buried in November was being reviewed.
Also a wooden statue of Sir Jimmy which stood outside Scotstoun Leisure Centre in Glasgow has been removed.
A spokesman for Glasgow Life, which operates the centre, said: "Given the current controversy and the seriousness of the allegations, we thought it appropriate to move the statue at this time."
The Metropolitan Police said it was investigating claims made against Sir Jimmy.