Conman Adam Adamou jailed for £850,000 fraud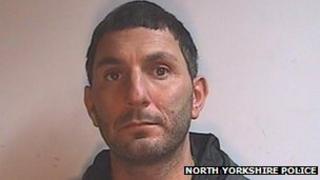 A man who conned three York businessmen out of £850,000 has been jailed for three years and eight months.
Adam Adamou, of Hoddesdon, Hertfordshire, was sentenced for theft and fraud at Southwark Crown Court.
The 38-year-old claimed to work for a private concierge club, which bought and sold luxury goods such as Aston Martin cars and expensive watches.
He was arrested after investigations by North Yorkshire Police and Metropolitan Police.
Insp Garry Ridler, from North Yorkshire Police's Major Fraud and Financial Investigation Unit, said: "The sentence reflects the level of deceit committed by Adamou.
"He gained the trust of a number of people and then abused that trust, taking them for as much money as he could."
Adamou was ordered to repay £918,015 from any future earnings.