Sir Jimmy Savile cemetery security reviewed in Scarborough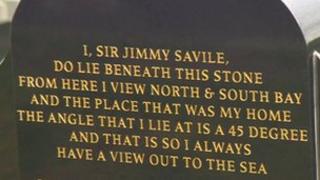 Security at the cemetery where TV presenter and DJ Sir Jimmy Savile is buried is being reviewed, Scarborough Borough Council has said.
Andy Skelton, head of environmental services, said the council was "reviewing the security arrangements" at Woodlands Cemetery.
The decision follows allegations that the entertainer sexually abused teenage girls in the 1970s.
The Met Police said it was investigating the claims made by women.
A community group set up in Scarborough in memory of Sir Jimmy has erected a number of memorials to the entertainer.
One of them, a gold-coloured civic society plaque, installed in September outside the flat owned by the entertainer at Wessex Court on the Esplanade, has been defaced with graffiti.
The plaque originally read 'Sir Jimmy Savile 1926-2011. Entertainer and philanthropist lived here.'
North Yorkshire Police said it was investigating the incident.
'Bitter taste'
Chairman of the group David Jeffels said the allegations had left "a bitter taste in many people's mouths".
"Jimmy was held in very high regard in Scarborough by very many people here," he said.
The community group was set up in the seaside town after Sir Jimmy died in October 2011.
Mr Jeffels said the steering group had no plans to meet and discuss the issue until the police investigation had concluded.
"I think we should just leave the plaques and the signs as they are at the present time," he said.
An ITV documentary which is due to be screened later features a number of women who claim to have been abused by the star during the 1970s.
Trustees of the Jimmy Savile Charitable Trust said they were saddened and shocked by the allegations.