Flood-hit bridges in North Yorkshire re-open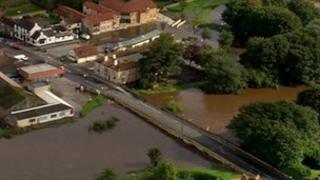 Two bridges in North Yorkshire have re-opened after officials closed them when they became flooded.
Thornton Bridge and Gallows Green bridge, near Thirsk re-opened after engineers assessed the bridges as safe.
The A61 Skipton on Swale bridge and Cawood swing bridge remain closed.
At the height of the floods, the worst to hit the county in more than a decade, more than 70 roads and bridges were closed.
The council said the bridge at Cawood would remain closed for several days, as the Ings area was used to protect Selby during the height of the floods and remains deep.
Engineers are also assessing the bridge at Skipton on Swale on a daily basis and said they hope to send a specialist diving team in to the waters later for a safety check.
The Conservative-controlled county council said 18 bridges and roads remained closed.