Police warn North Yorkshire drivers not to ignore flood signs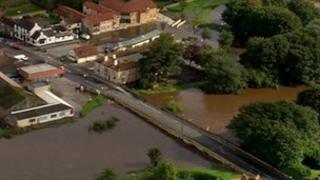 People have had to be rescued after ignoring signs indicating closed roads and bridges put up during floods in North Yorkshire, police have said.
Assistant chief constable Ian Spittle told the BBC he was "really concerned" signs were being ignored.
A number of drivers have been rescued as a result, including an incident in the Newton on Ouse area earlier.
North Yorkshire Police said roads in Selby, Richmond and Hambleton would remain closed for a number of days.
"I can't stress strongly enough the importance of conforming to road closures and the bridge closed signs out there," said Mr Spittle.
"I know its frustrating but the county council and the city council have staff working all weekend opening roads."
Several bridges in the area would need to be assessed by engineers before they were re-opened, Mr Spittle said.
Tadcaster's bridge over the River Wharfe was due to be examined earlier, however divers were unable to enter the waters.
A 14-mile diversion remains in place after the bridge was closed on Wednesday. An inspection is now expected to take place on Sunday.
North Yorkshire County Council said it was "poised" to inspect the A659 bridge, as well as others at Boroughbridge, Morton-on-Swale and Skipton-on-Swale.
The A19 at Fulford and Town Street, in York city centre, have been re-opened following flooding, however a number of roads remain closed.
Twenty-two flood warnings remain in place within the area, including the River Ouse and River Ure.
The level of the River Ouse in York is slowly falling after more than 100 properties were flooded.