York biker banned for 'shocking' 104mph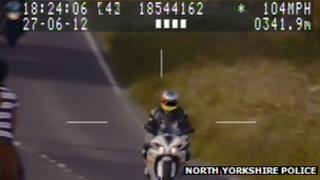 A biker has been banned from driving for 70 days after showing a "shocking" disregard as he passed a horse and rider at 104mph in North Yorkshire.
Garry James Wilkinson, 41, of Huntington, York, was captured on Escrick Road, Stillingfleet in June by a mobile camera.
Wilkinson pleaded guilty at Selby Magistrates' Court to exceeding the 60mph speed limit on his Yamaha.
He was fined £360 with £45 costs and ordered to pay a £15 victim surcharge.
PC Zoe Billings, of North Yorkshire Police, said: "The disregard shown by Wilkinson for the safety of the horse and rider is shocking.
"Wilkinson should think himself fortunate to have been facing a speeding charge and nothing more serious."