A town divided 'is a town united'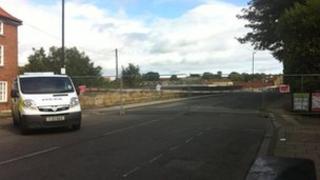 Normally Tadcaster's bridge over the River Wharfe would be a busy thoroughfare connecting two halves of the town.
It is the access for public transport, for people attending the doctor's surgery and for shoppers going to Sainsburys.
But on Thursday the town was cut in two parts.
North Yorkshire County Council has shut the bridge after flooding.
It is affecting residents in different ways.
Hazel Rose, 70, said: "My daughter lives over the other side and she's been ill but I don't drive so I can't get to see her.
"It's a town in two halves."
'Half way to York'
Peter Nicholson was unable to make his medical appointment because of the closure.
"Normally it would take me five minutes to get there, but it would have meant going half way up to York and then coming back on myself to get there," he said.
Lynda Robbins and her son live on different sides of the town.
On Wednesday she had to drive 18 miles to see him instead of the normal half-mile drive over the bridge to where he lives.
A previously fenced-off area at the end of the town's disused viaduct has been opened up, meaning that pedestrians are now able to get to both sides of the river.
Protect properties
It may mean a 20-minute walk rather than a few minutes, but it is a temporary solution until the road bridge reopens.
Today Tadcaster is quiet. People are milling around Bridge Street and by the river - coming to inspect the water levels, which earlier measured 2.46m (8.07ft) above normal.
Talks centre on when the bridge will reopen. A sign on the bridge says that will not be until 16 October.
Emergency services and the Environment Agency have been working to protect properties and businesses near the river.
The Works Hair and Beauty Salon did not escape unscathed.
Owner Debbie Tyrell said: "The drains backed up and water came in downstairs.
"We managed to get things upstairs and we were lucky because it was clean surface water not sewage water.
"The emergency services were brilliant and so were other businesses. Everyone came together."
Zoe and Nick Devine, owners of Devine Meats, said there was a "real community spirit".
Mrs Devine said: "It was like a wartime spirit which made a not-great situation bearable."