North Yorkshire and York NHS Trust faces £10m budget cuts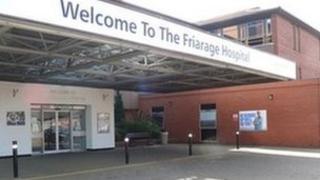 A range of medical services in North Yorkshire are under review as the local NHS trust attempts to cut £10m from its deficit.
There are proposed changes to non-emergency operations and some outpatient follow-up appointments.
The North Yorkshire and York NHS Trust board approved the measures after being told its projected deficit was approaching £40m.
However, a GPs' leader said patients should be "concerned about cutbacks".
The trust originally predicted a debt of £19m by the end of the year.
'Difficult decisions'
It said that over the past two months its financial situation had deteriorated further "due largely to higher than anticipated demand for hospital services".
The £10m savings will be put out to public consultation and, if approved, they will be made by April 2013.
Chris Long, the chief executive of NHS North Yorkshire and York, said: "In order to ensure we can continue to provide essential services to everyone in North Yorkshire and York, we must make some difficult decisions about the services we provide both this year and into the next.
"It is estimated that these measures will save approximately £10m, and we are working with local health partners to identify further measures required to keep the projected deficit to £19m."
Mr Long claimed the measures would "not in any way affect patient access to emergency care".
Other measures include changes to opening hours in the region's minor injuries units and the closure of some beds in community hospital and reviews of expensive medical treatments and mental health care.
Public consultation
Dr Richard Vautrey, deputy chair of the British Medical Association's GP committee, said: "If you cut in one area it puts pressure on another area.
"Everybody in the health service is working flat out, and [GP] practices are particularly.
"Take away any resources from practices and it makes their job doubly hard."
At the same meeting, the board voted to put out to public consultation two proposals on the future of maternity services at the Friarage Hospital in Northallerton.
The two proposals are for midwife-led services at the hospital.
A proposal to retain a unit led by a consultant doctor was rejected.
An independent report recommended closing the unit and transferring all services to a hospital in Middlesbrough.
The closure plan triggered a public campaign to save the maternity unit, which was supported by the the local Conservative MP William Hague.