York nursery parents offered help after Lydia Bishop death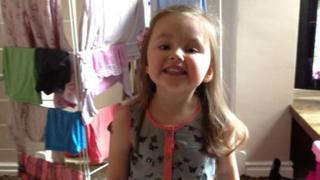 Parents of children at a nursery where a three-year-old died have been offered advice on helping their children deal with the death.
Lydia Bishop died after becoming entangled in a rope on a slide in a play area at the nursery at York College on Sim Balk Lane, York.
In a letter the council warns parents that children do not always understand the "finality" of death.
A North Yorkshire Police investigation into the incident is continuing.
Lydia Bishop was attending the nursery for the first time on Monday when she was injured while playing in the outside play area.
The toddler died in hospital later that afternoon.
'Seek security'
Peter Dwyer, director of adults children and education at the City of York Council, said the council's thoughts remained with those affected by Lydia's death, in particular her family.
In a letter to parents, he adds: "We understand that you may have concerns about the impact of this tragic event for your child.
"Of course, every child is different, however at a time like this it is not unusual for a child to seek the security of being with familiar adults who they trust."
He said: "They [young children] do not always have the vocabulary to express distress, and feelings may be demonstrated through behaviour and play, this may include 'acting out' elements of scenes they have witnessed."
Mr Dwyer said help for concerned parents would be available through the council-run York Family Information Service.
The council said the nursery at the college would remain closed until at least 1 October and information about alternative childcare was also available through the family information service.
York College has said it will cover any costs incurred by parents who need to find alternative childcare.