Lydia Bishop died on first day at York College nursery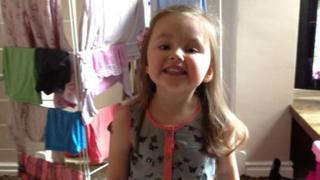 A three-year-old girl died in a playground accident on her first day at nursery school, police have said.
Lydia Bishop, from York, died following an accident at the nursery at York College on Sim Balk Lane on Monday afternoon.
Police said the toddler had become entangled in a rope on a slide in the outdoor area at the nursery.
There were no suspicious circumstances, police said. Ofsted and the Health and Safety Executive have been informed.
Det Ch Insp Nigel Costello, from North Yorkshire Police, said: "As I understand it was her first day of nursery yesterday.
"Lydia had gone onto the slide in the outdoor play area and at the top of the slide there was some rope which she got tangled in."
The nursery is expected to remain closed for at least a week, Det Ch Insp Costello added.
'Working together'
Dr Alison Birkinshaw, Principal of York College, said the death of the three-year-old was "devastating".
"Our thoughts are with the child's family and the children, families and staff at the York College nursery," she said.
Parents of children attending the nursery had been informed of the accident and would be kept updated with any further developments, she said.
A spokesperson for the City of York Council said: "All relevant agencies are aware and will be working together over the next few days.
"Our thoughts are with the family of the child and staff at the nursery."
York College, which serves students between 16 and 19 years of age, moved into the £60m Tadcaster Road campus in 2007.
The nursery website said the facility provided full daycare provision for children aged between six weeks and five years.
It opened in 2007 and has three play rooms, each with access to a fully-enclosed outdoor area.
'Superb' facilities
An Ofsted inspection carried out in September 2009 said the overall quality of provision at the nursery was good.
The inspector said in the report: "Children are taught to be safety-conscious and they show a sound understanding of how to keep themselves safe."
The outdoor facilities at the nursery are described as "superb".
David Yearley, head of play safety for the Royal Society for the Prevention of Accidents, said fatal playground accidents were "rare", with only one death in every two to three years.
"This is obviously a tragedy for those concerned, but if you look at it in a national context, with 12 million children and tens of thousands of play opportunities, they are few and far between," he said.