Friarage Hospital plans to go to public consultation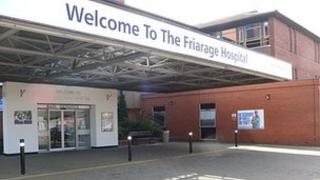 Plans to scale down children's and maternity services at a North Yorkshire hospital are to be put out to public consultation, it has been confirmed.
If approved, a day care assessment unit would replace overnight children's care at the Friarage in Northallerton.
Pregnant women at risk of complications would also have to travel to hospital in Middlesbrough to give birth.
William Hague, MP for Richmond, said the recommendations were a "serious blow" to local residents.
The proposals would also mean maternity services being led by midwives instead of a consultant.
NHS Hambleton, Richmondshire and Whitby Clinical Commissioning Group (CCG) said the proposals were its preferred option after an "in depth review".
'Allocation of funding'
The recommendations come after a national clinical advisory team report published in January said the Friarage's paediatric unit was unsustainable.
The report also recommended a scaling-back of maternity services at the hospital.
Dr Vicky Pleydell, from the CCG, said: "Our duty is to commission the safest, most high quality services and clinical evidence tells us that this option will allow us to do this, while ensuring we remain within our allocation of funding."
If approved by the CCG's shadow governing body on 17 September, the recommendations will be put to a 14-week formal public consultation.
William Hague, the Conservative MP in whose constituency the hospital is located, said the maternity service plans were "a serious blow" to local residents.
"If the Primary Care Trust accepts this recommendation it would mean that at least 700 women, and possibly more, would no longer be eligible to give birth at the Friarage," he said.
Mr Hague said he would continue to encourage the CCG set out a "clear and positive vision" for the Friarage Hospital.