Africa massacre suspect David Simpson back in UK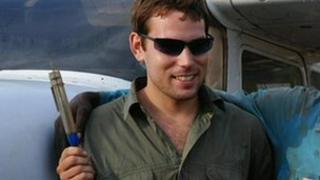 A man imprisoned in Africa after being suspected of involvement in a massacre is back in the UK after being cleared of all charges.
David Simpson, 24, a pilot, was working in the Central African Republic in March when he reported coming across 18 bodies in remote bushland.
Mr Simpson, of Gillamoor, North Yorkshire, went voluntarily to answer questions and was arrested and jailed.
Foreign Secretary William Hague welcomed Mr Simpson's return.
Game hunting
Mr Hague said: "Government ministers and officials have worked hard on his behalf. I raised the case with Central African Republic Foreign Minister Gambi in August and am pleased that his case has now been resolved."
Mr Simpson had been working as a manager for a Swedish company, Central African Wildlife Adventures, which takes clients game hunting.
He was looking for a water supply in remote bushland in Bakouma in the south-east of the country when he found the bodies, which were tied together and mutilated.
Mr Simpson was held on suspicion of murder in Ngaragba Central Prison in the capital, Bangui, before being put under temporary house arrest after the jail was stormed by rioters and destroyed earlier this month.
Many commentators have linked the killings to supporters of Ugandan warlord Joseph Kony, who is wanted by the International Criminal Court for war crimes and crimes against humanity.