Electricity scheme at River Esk in Ruswarp nears completion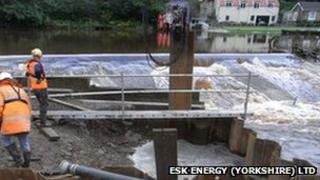 A community energy scheme in North Yorkshire will near completion with the installation of an Archimedean screw turbine on the River Esk later.
The weir in the river at Ruswarp, near Whitby, will turn the screw.
Esk Energy (Yorkshire) Ltd says the turbine could generate up to 160,000kWh of electricity and produce an income of £1m during its first 20 years.
The scheme, which has cost £500,000, has been funded through a community share issue.
Colin Mather, who chairs the company, said: "This is such an exciting day for everyone involved.
Pass through easily
"Think global and act local has always been one of our mottos and, after five years of planning, obtaining permissions and fundraising, we are nearing the point of realising our vision of harnessing the power of the River Esk to create clean energy."
The river can send about four tonnes of water down the single Archimedean screw every second, forcing it to rotate.
Generators extract the energy, made by the turning of the screw, to produce electricity.
The size and shape of the screw means that smaller objects like leaves or fish can pass through easily and safely.