Sirius confirms North Yorkshire potash mine location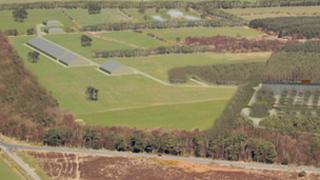 A company wanting to exploit potash deposits in North Yorkshire has confirmed its mine will be in the North York Moors National Park.
Sirius Minerals said its preferred location for the mine was a site three miles (4.8km) south of Whitby on the B1416.
Potash is a potassium compound mainly used in fertilisers.
The company said it hoped to submit a planning application for the mine by the end of this year.
Sirius Minerals was given permission to test drill at a number of sites between Whitby and Scarborough in early 2011.
The location of the mine had been selected after a review of a number of sites both within and outside the national park, the company said.
'Most innovative'
Mineral extracted at the mine would be transferred underground for processing on Teesside about 35 miles (56km) away.
Chris Fraser, managing director and CEO of Sirius, said: "From the outset, Sirius has said we would develop a state-of-the-art potash mine in an unobtrusive manner.
"Our proposed location and initial designs show what would be a relatively simple concept to construct, but with one of the world's most innovative approaches to low impact mine design."
The North York Moors National Park Authority said it would carefully assess the potential economic benefits and the environmental impacts of the mine before reaching any decision.
A spokeswoman said planning permission for major developments in designated areas, such as national parks, should be refused unless there were exceptional circumstances.
She said it was the authority's job to assess the proposals and decide if the mine would be in the public interest, or if it could be located outside the national park.