Work starts on £9m cancer centre at Harrogate Hospital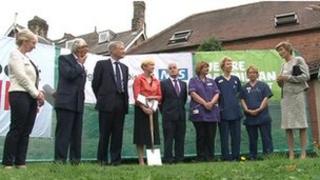 Work has started on a new £9m cancer unit at Harrogate Hospital.
It will offer more types of chemotherapy and better facilities for counselling and support for patients.
It is being named the Sir Robert Ogden Macmillan Centre to recognise a donation made by businessman Sir Robert Ogden plus funding from charity Macmillan Cancer Support.
A turf cutting ceremony was held earlier. The centre is expected to be open by the autumn of 2013.
Sir Robert donated £3.5m to the centre and Macmillan Cancer Support contributed £3.5m.
Harrogate and District NHS Foundation Trust has funded the remaining £2m.
Lorraine McDonald, development manager at Macmillan Cancer Support, said: "Currently some patients still attend chemotherapy appointments in Leeds hospitals so what it means is more local patients can be treated at Harrogate."
She added: "The environment people will find when they come into the hospital will almost be state-of-the-art.
"That environment is really important to patients and their families."
Ms McDonald said additional services would include an information and support centre, a welfare benefit service and providing space for self-help and support groups.