David Simpson under house arrest after prison riot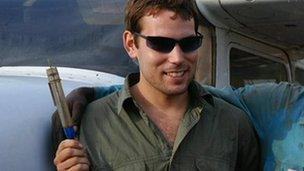 A North Yorkshire man locked up in an African jail since March is now under house arrest after rioters destroyed the prison he was in.
David Simpson was held without charge after finding 18 bodies in the Central African Republic jungle while working for a safari company.
Mr Simpson posted a message on Facebook saying looters with machetes broke into the jail and started to attack him.
He says he is still a prisoner but is able to enjoy a bit more freedom.
Mr Simpson also said he hopes charges will be dropped within the next few weeks.
He was working for a safari firm in the Central African Republic when he said he found the mutilated corpses.
He reported it to officials but was then detained on suspicion of murder.
Mr Simpson's father Peter has told BBC Radio York his son is now under house arrest and that he "just wants him home".
Mr Simpson was working for Swedish company Central African Wildlife Adventures, which takes clients game hunting, and had been looking for a water supply when he said he found the bodies in remote bushland.
He told his family it was believed the suspected massacre had been carried out by the rebel group the Lord's Resistance Army.
After contacting the authorities, the family said Mr Simpson had gone voluntarily to answer questions and had been arrested and imprisoned on suspicion of murder.
Related Internet Links
The BBC is not responsible for the content of external sites.