Company puts £54m into North Yorkshire potash scheme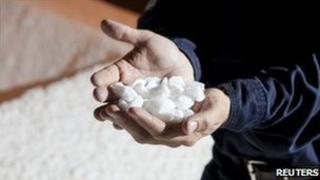 A company hoping to exploit potash deposits in North Yorkshire says it is committing the vast majority of its £54.3m cash reserves to the project.
Last year Sirius Minerals said test drilling at temporary boreholes between Whitby and Scarborough revealed some of the best potash deposits in the world.
The company said it would scale back its overseas operations to concentrate on the project.
Potash is a potassium compound mostly used in fertilisers.
Sirius Minerals made the announcement as it revealed it had £54.3m in "cash and cash equivalents" at the end of the past financial year.
'World-class potential'
It will use most of the money to fund the completion of its temporary drilling programme, planning applications and feasibility studies for the project, called York Potash.
The company has decided not to develop mines at sites in Australia and Dakota so it can focus on the North Yorkshire site.
Production in the area could start by 2017 if planning applications are approved, creating about 1,000 jobs.
Chris Fraser, Managing Director and CEO of Sirius, said: "In the past year, we have successfully confirmed the world-class potential of the York Potash project.
"We have put in place the vital foundations to deliver financing, construction and production of a new modern mine as quickly as possible.
"Our focus is now on working up the very best planning applications needed to start construction, deliver the numerous benefits of the project."